100% Natural Maple Syrup
At Oliver's Mapleworks we produce delicious pure maple products from our family owned and operated sugar camp.
Oliver's Mapleworks offers a comprehensive range of delicious maple products. As a 100% natural sweetener maple syrup makes a tasty topping and a wonderful addition to your baking. Maple syrup, maple butter, and maple candy make unique gifts for family and friends. Our maple products are available at the sugar camp during the season or by order anytime of the year!
Upcoming Events
 Welcome to Syrup Season 2023
 Maple Weekend: April 1 & 2, 2023 from 10 a.m. to 4 p.m. We are pleased to be able to open to the public again! Tour the sugar camp for a look at the process, a wagon ride to the sugar bush, and stop at the barn to see the furry friends. Be sure to get some taffy on snow for a taste of spring! Lots of maple syrup, candy and maple butter for sale as well as some local baking.   Bring the whole family and wear your boots – spring can be muddy!
Easter Weekend - The camp will be open Friday, April 7th; Saturday, April 8th and Monday, April 10th from 10-4. Best to call ahead first. 613-267-0857
Perth Festival of the Maples Saturday April 29, 2023. Come to Perth to visit the vendors and displays on Gore St., and along Foster this year, streets open 9-4; The Maple Syrup and products competition returns, stop by the stage area to see the winners receive their trophies, time to be decided.
Click here to contact Festival of the Maples for more information.
Perth Farmer's Market opens Saturday, May 13th! Every Saturday from 8 a.m. to 1 p.m. in the Perth Tay Basin.
Fall In Love With Maple Open House: Come visit the sugar bush Saturday, October 7 & Sunday, October 8, 2023 from 10AM-4PM. Visit the animals at the barn, enjoy a wagon ride through the sugar bush, enjoy maple taffy and a guided tour of the sugar camp operation before sampling and purchasing maple products in the sales room.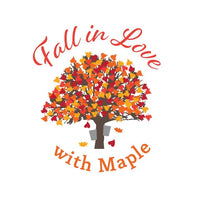 Sugar Maker of the Year Award
Richard and Jay Hendry with David and Tressa Oliver are presented with the 2016 Sugar Maker of the Year Award. The Trophy is sponsored by Springdale Farm and was presented by Dwight James at the Lanark & District Maple Syrup Producer's Association Annual Information Day January 28, 2017.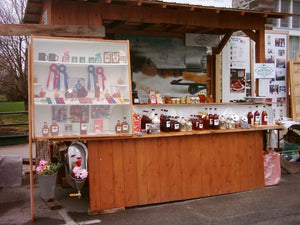 Perth Festival of the Maples
The "Perth Festival of the Maples" is held in Perth Ontario every year on the last Saturday in April from 10:00am – 4:00pm, in downtown Perth on Gore Street (the main street through Perth) which will be closed between Foster and Harvey on that day. Visit hundreds of vendors and many Maple Producers to taste their fresh maple syrup, candy, maple butter and even taffy on snow!
For more information contact the Perth Chamber of Commerce at www.perthchamber.com
or the Lanark & District Maple Syrup Producers Association at  www.ldmspa.com
Festival of the Maples
Maple Weekend
Highlights for your visit:
* Wagon ride * Sugar camp tour
* Taffy on snow * Maple sausages * Barn Animals
So wear your boots and plan to experience the "pure taste of spring" at Oliver's Mapleworks Sugar Camp and Farm.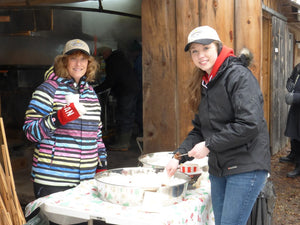 Tapping out Party